Philanthropy & Community Investment at Bacardi Limited
The company and the Bacardi family established a legacy of supporting communities and charitable organizations from its inception in 1862.
We are proud of this tradition that continues today, and Bacardi remains committed to fostering healthy and vibrant communities in which we live and work. Across the entire company, we aim to involve all Bacardi Primos in our philanthropy and community investment activities. We provide paid time off for volunteerism and encourage Primoss to volunteer their time in programs and activities to support local organizations. Through our engagement, we support many worthwhile charities working to better our communities. Our flagship global Corporate Responsibility volunteer initiative, Corporate Responsibility (CR) Month, is designed to engage Primos and work in a globally coordinated way to give back to our local communities. The program encourages all Bacardi operations to hold initiatives that give back to their communities.
In FY19, Bacardi Primos in more than 30 locations around the world, participated in CR Month volunteer activities. Primos in Great Britain worked on local habitat and wildlife conservation efforts while Primos in Hong Kong helped sort and pack food to support food waste and hunger efforts. Primos in Florida built hygiene kits for veterans, and primos in Belgium participated in a local river waste clean-up effort. As these examples highlight, efforts happened globally but focused on local needs.
 
In FY19, we rolled out a new initiative under our Good Spirited platform called My InSpirit Day. My InSpirit day encourages all Primos to take one day a year to give back to the cause and organization that means the most them. This is another way that our Primos are making a difference in their local communities around the world and leaving a legacy that aligns with Bacardi family values and culture.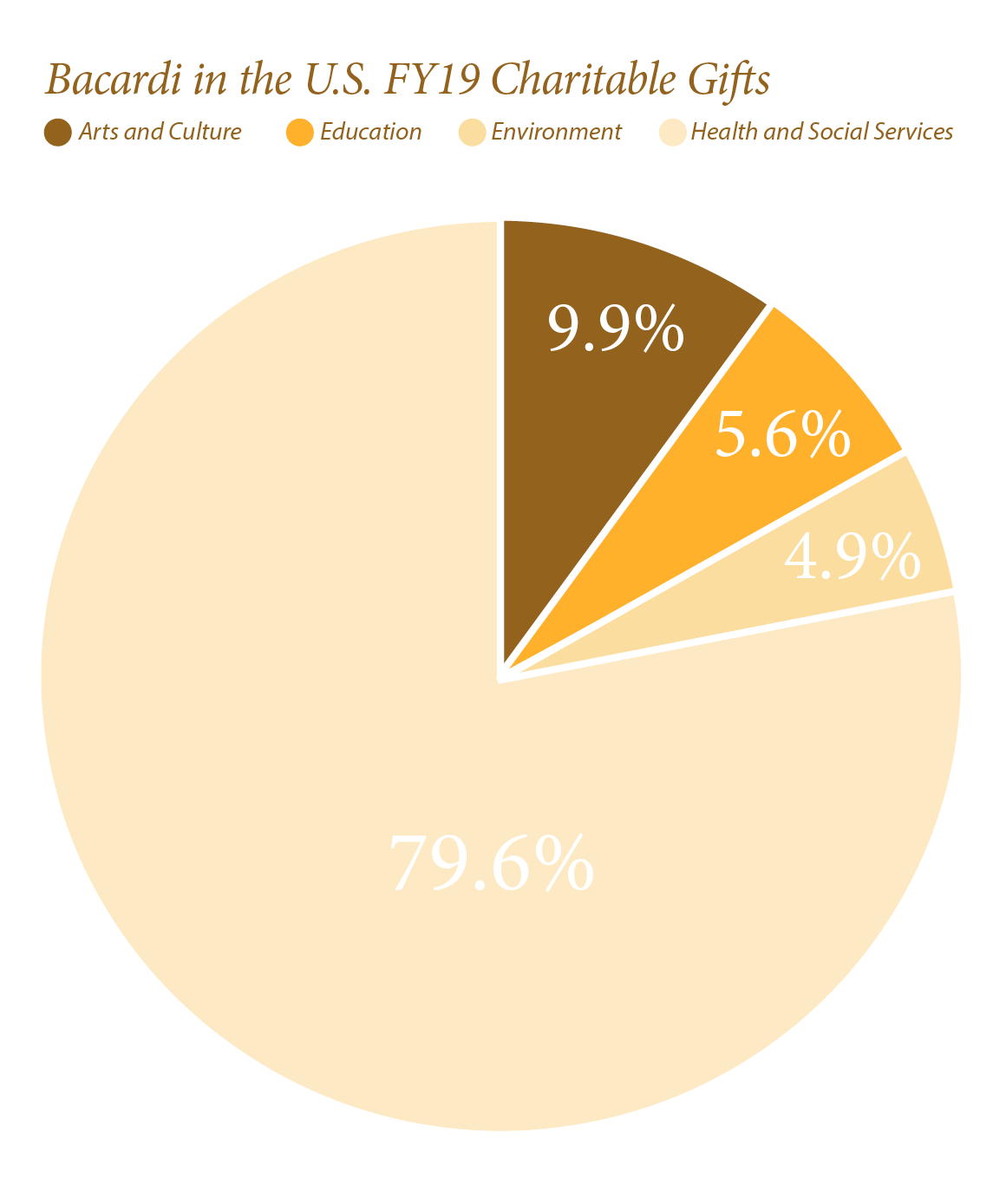 In addition to time spent volunteering, Bacardi supports local initiatives with charitable gifts and in-kind donations in four broad areas:
• Arts & Culture
• Education
• Environment
• Health & Social Services
Bacardi in the United States, with our North America headquarters located in Coral Gables, Florida, takes our commitment to community very seriously. In FY19, Bacardi in the U.S. provided over $1 million in cash grants to charitable organizations and more than $350,000 in in-kind donations. 
Some of our offices and Primos were impacted by natural disasters in FY18, including Hurricane Maria, which hit our Puerto Rico distillery in September 2017. While we were very lucky to have minimal damage to our facility and only a 10-day delay in production of our BACARDÍ premium rums, our people and our community were significantly affected. In addition to our community relief efforts and providing more than $3 million in charitable gifts to organizations helping with rebuilding efforts, our Primos and partners from around the world contributed to an online fundraising campaign. All the money raised went to Primos directly affected to help get their lives back on track. The fifth of Bacardi's Good Spirited global goals is to continue to take care of our communities. Two targets we will work towards and report on their progress moving forward include: