Marketplace
Many people drink moderately and as part of a healthy lifestyle. However, we recognize that alcohol, if abused or misused, can cause harm.
As a producer of beverage alcohol, we recognize we have a responsibility to market our brands in such a way as to ensure we do not target those under the legal drinking age and to encourage all those who choose to drink, to do so responsibly.
At Bacardi, we believe we have a role to play in reducing the harmful use of alcohol. For almost 30 years, Bacardi, along with our industry partners, has supported efforts to promote responsible consumption in the countries where we operate, implementing responsible drinking initiatives at the local level with the partnership of social aspect organizations. Today, we continue to prioritize our Marketplace pillar and our commitment to responsible marketing and responsible drinking.


In 2012, Bacardi along with 10 other leading industry members, made a commitment to build on long-standing efforts to reduce harmful drinking through the Beer, Wine and Spirits Producers' Commitments. Bacardi and other producers came together to support international efforts to improve health and social outcomes for individuals, families and communities through a set of Five Commitments over five years. Investments were made in education, partnerships, and other programs to combat harmful drinking. Although the five-year period has come to an end, Bacardi remains committed to continuing the efforts of the Five Commitments and the 10 action areas.
More information on the industry's commitment to alcohol responsibility can be found on the International Alliance for Responsible Drinking website at ResponsibleDrinking.org.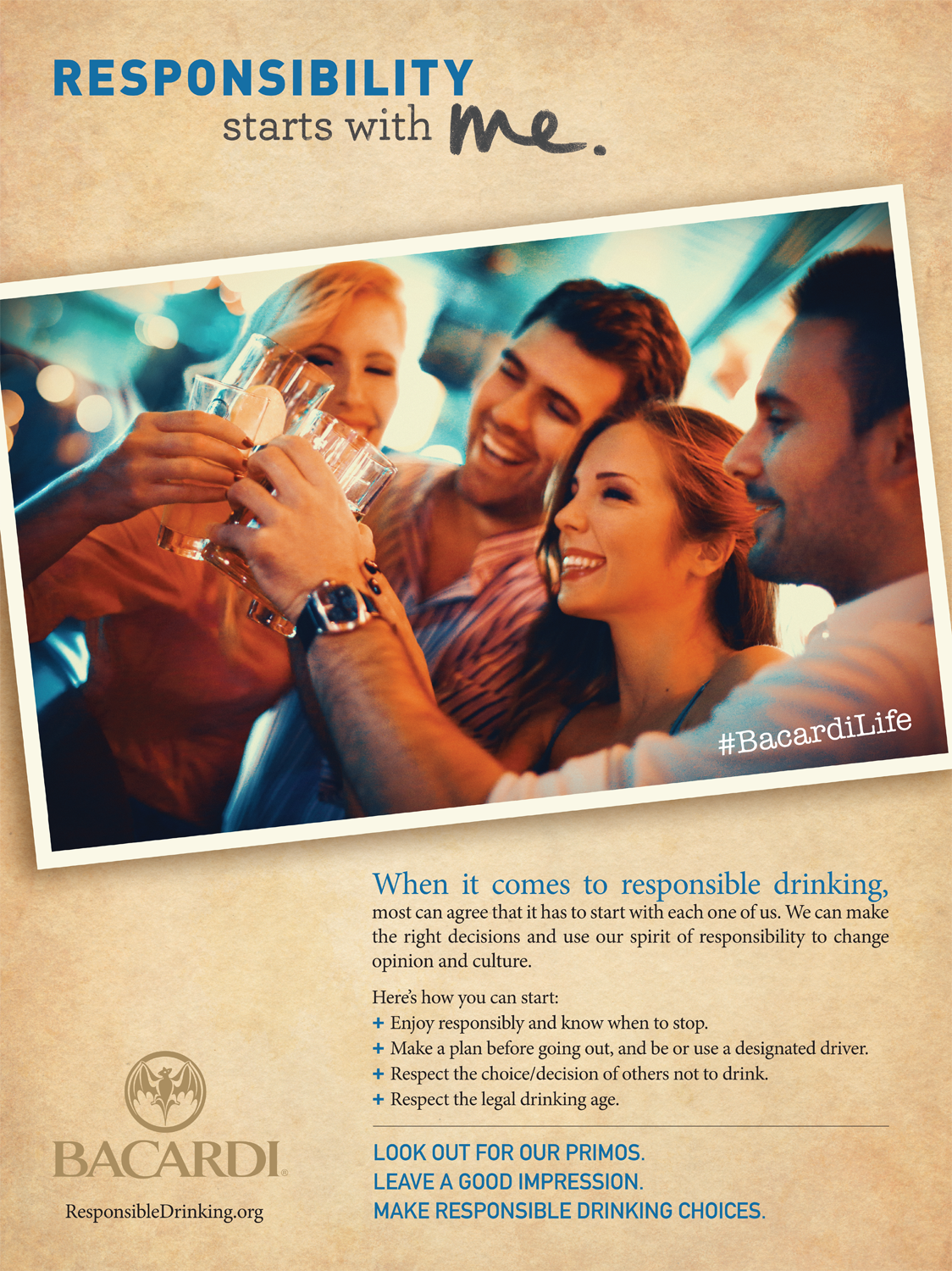 Bacardi is committed to marketing our products responsibly to adults who choose to drink. In FY19, the Bacardi Global Marketing Principles were reviewed and updated to ensure our internal code reflects the external marketplace and is consistent with the current global alcohol codes. It was especially critical that our code reflects the constant evolution of the digital landscape to help ensure that our marketing teams are communicating responsibly to legal drinking age consumers across social media channels. This not only includes treating the digital environment in the same way we would with all other media but taking particular care to ensure we disclose any commercial relationships with Influencers to our consumers by always being open, honest, and transparent. In FY19, Bacardi achieved 79% compliance with the safeguards to ensure responsible digital marketing. More on our Responsible Marketing performance in the digital space can be found in the Key Highlights of this section. 
In FY19, Bacardi continued to have 100% compliance with ensuring all advertising contracts include accordance to responsible alcohol advertising codes. Of our total volume of products produced for our priority markets, 100% contain a responsible drinking messaging, logo, or website on its label. All relevant marketing Primos, along with our third-party agencies will be trained yearly with our new online module to ensure compliance to our principles.
Bacardi, in partnership with other industry members and through local social aspect organizations, was involved in more than 100 Responsible Drinking campaigns across the world in FY19. From reducing excessive consumption to preventing underage drinking to discouraging drinking and driving, these campaigns reached millions of individuals with the information and tools needed to make mindful, responsible, and healthy choices for themselves and their families. More details on the campaigns can be found in the Key Highlights of this section. 
Our efforts to reduce the harmful use of alcohol are integrated with the United Nations Sustainable Development Goals number 3: Good Health and Well-Being. We believe we can help make progress on Target 3.5: "strengthening prevention…. to reduce the harmful use of alcohol," and are taking an active role to do so.