Finest Agave

It starts with the agave. PATRÓN's characteristic smoothness and layers of flavor stem from using the finest, highest-quality Weber Blue Agave. These agave plants, which take up to seven years to mature and develop the right sugar levels needed to produce PATRÓN, are hand cultivated in the fields and then transported to PATRÓN's distillery, Hacienda Patrón, in the Highlands of Jalisco, Mexico.
Artisanal Production Process

After arriving at the distillery, the hearts of the agave plant, called piñas, are loaded by hand into small masonry ovens. This time-honored method of cooking agave slow-roasts small batches for about 79 hours. When the sweet, rich agave emerges from the ovens it is macerated, fermented and distilled using two uniquely separate processes, the centuries-old tahona process and the more modern roller mill process, which both produce distinctive tequilas that are ultimately blended together to create PATRÓN. (For Roca PATRÓN, and certain other PATRÓN releases, those are produced entirely from the tahona process.)
Our Unwavering Commitment to Quality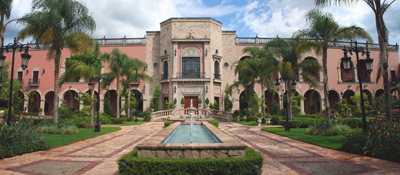 "Our passion for excellence, quality and perfection guides everything we do. Though PATRÓN has grown, our careful, time-consuming process has never changed," says PATRÓN's master distiller Francisco Alcaraz, who developed PATRÓN's unique recipe and process. "Instead of building bigger stone ovens, or bigger fermentation vats and pot stills, we've actually replicated the original small batch process many times over. That's how we've been able to maintain our consistent high quality."
This careful attention to detail and high level of craftsmanship carries through into the bottling and packaging room as well. At least 60 hands touch and inspect each bottle as it moves from person to person, each labeling, numbering, and wrapping the bottles. A piece of art unto themselves, each bottle is then hand-polished, and a ribbon is hand-tied around the neck.