Great Place To Work® Names Bacardi Fortune World's Best Workplaces™ in 2023, Ranking #18
Great Place To Work® Names Bacardi Fortune World's Best Workplaces™ in 2023, Ranking #18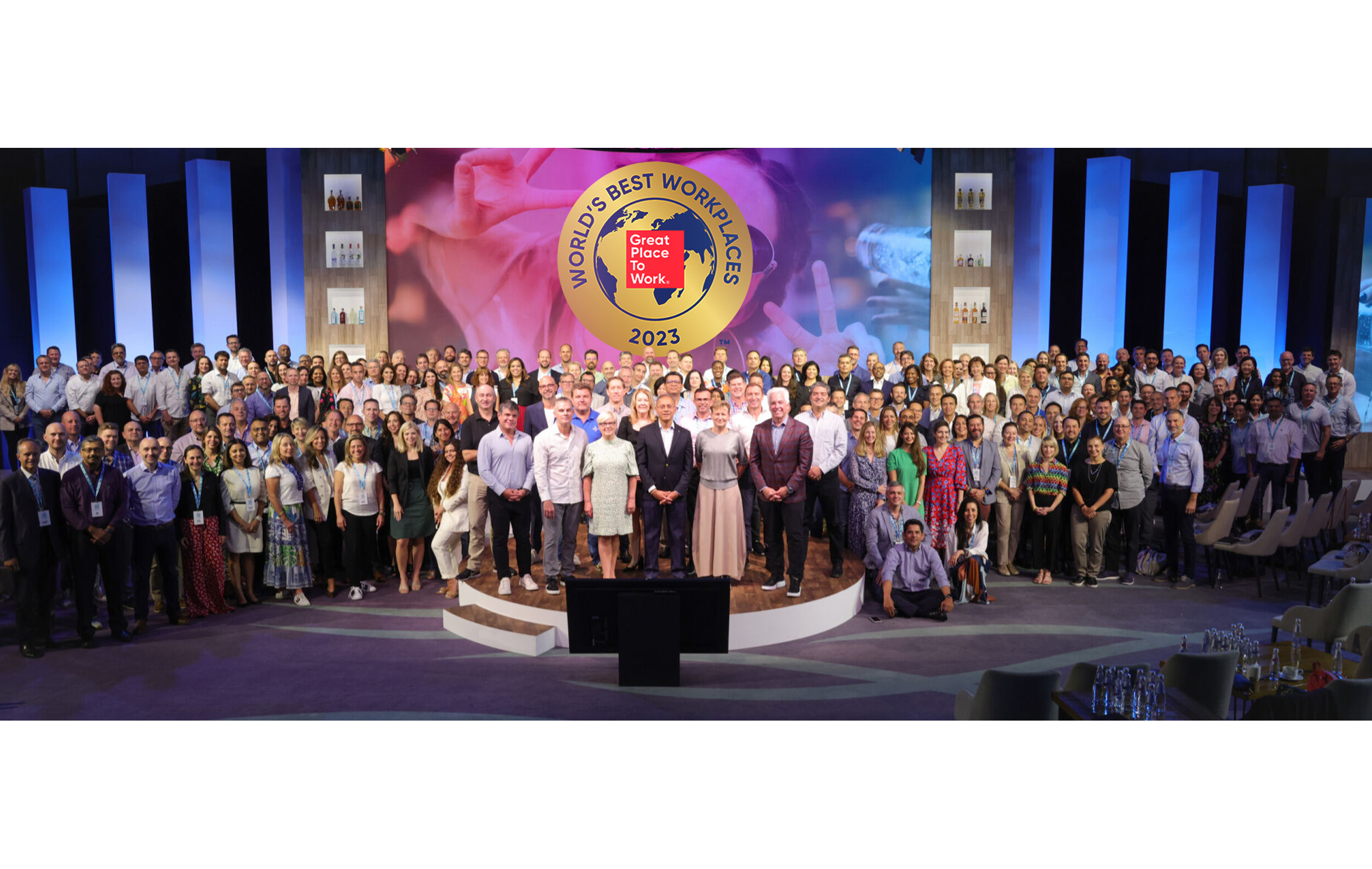 Recent news
Great Place To Work® Names Bacardi Fortune World's Best Workplaces™ in 2023, Ranking #18
November 17, 2023
Family-owned company celebrates workplace culture
Hamilton, Bermuda, November 17, 2023 – Congratulations are in order as Bacardi, the world's largest privately held international spirits company, celebrates its debut on the World's Best Workplaces™ in 2023 list presented by Great Place To Work® and Fortune magazine, coming in at #18.
Global leaders were selected from organizations that participated in Great Place To Work's employee survey process, representing the voices of 14.8 million employees worldwide. The 25 World's Best Workplaces stood out for creating globally exceptional employee experiences, high-trust relationships, and workplaces that are fair and equal for all.
As a family-owned business for seven generations, we have a legacy of being Fearless, respecting each other like Family, and leading with a Founders mentality. We are so proud for others to recognize what we know so well — that Bacardi is a special place and our culture is our superpower."
Scott Northcutt, SVP Global Human Resources
More than 9,000 people make up the Bacardi global workforce and at work they are referred to as Primos, not employees. Primos, which means cousins in Spanish, is a nod to the Latin heritage and family business that is part of the company's DNA. The Bacardi portfolio comprises more than 200 brands and labels, including some of the most iconic names in the industry such as BACARDÍ® rum, PATRÓN® tequila, GREY GOOSE® vodka, and many more.
This accolade follows other recent workplace recognitions for Bacardi, including:
Best Workplaces in Latin America & the Caribbean
and Great Place to Work® certification at 50 Bacardi sites
Great Place To Work is the only company culture award in the world that selects winners based on how fairly employees are treated. Companies are assessed on their ability to create a great employee experience that cuts across race, gender, age, disability status, or any aspect of employee identity or job role.
Being a global employer comes with immense responsibility to people and to the planet. These extraordinary companies are having an incredible impact, supporting their people, and fighting for a fairer, safer, and healthier communities around the globe. When you empower people to work with purpose, they reward you with innovation and performance — and help create a better world for all of us."
Michael C. Bush, CEO of Great Place To Work
The Fortune World's Best Workplaces list is highly competitive. Great Place To Work, the global authority on workplace culture, selected the list using rigorous analytics and confidential employee feedback. Companies were only considered if they were already a Great Place To Work Certified™ organization.
About Bacardi Limited
Bacardi Limited, the world's largest privately held international spirits company, produces, markets, and distributes spirits and wines. The Bacardi Limited portfolio comprises more than 200 brands and labels, including BACARDÍ® rum, PATRÓN® tequila, GREY GOOSE® vodka, DEWAR'S® Blended Scotch whisky, BOMBAY SAPPHIRE® gin, MARTINI® vermouth and sparkling wines, CAZADORES® 100% blue agave tequila, and other leading and emerging brands including WILLIAM LAWSON'S® Scotch whisky, D'USSÉ® Cognac, ANGEL'S ENVY® American straight whiskey, and ST-GERMAIN® elderflower liqueur. Founded more than 161 years ago in Santiago de Cuba, family-owned Bacardi Limited currently employs approximately 9,000, operates production facilities in 11 countries and territories, and sells its brands in more than 160 markets. Bacardi Limited refers to the Bacardi group of companies, including Bacardi International Limited. Visit http://www.bacardilimited.com or follow us on LinkedIn, Instagram or X.
About the Fortune World's Best Workplaces
Great Place To Work selected the World's Best Workplaces by gathering and analyzing confidential survey responses representing 6.2 million employees worldwide at Great Place To Work Certified organizations. Organizations are assessed on their efforts to create great workplaces and positively impact people and communities across multiple countries around the world. Companies must have appeared on at least five Best Workplaces lists in Asia, Europe, Latin America, Africa, North America, or Australia during 2022 or early 2023, and have at least 5,000 employees worldwide, with 40% outside of their headquartered country.  Read the full methodology. To be considered, companies must use the Great Place To Work Trust Index™ Survey.  To earn a place on this list next year, start here.
About Great Place To Work
Great Place To Work is the global authority on workplace culture. Since 1992, it has surveyed more than 100 million employees worldwide and used those deep insights to define what makes a great workplace: trust. Its employee survey platform empowers leaders with the feedback, real-time reporting, and insights they need to make data-driven people decisions. Everything it does is driven by the mission to build a better world by helping every organization become a great place to work for all.
Learn more at greatplacetowork.com and on LinkedIn, Twitter, Facebook and Instagram.