Forbes Names Bacardi Among World's Top Companies for Women 2023
Forbes Names Bacardi Among World's Top Companies for Women 2023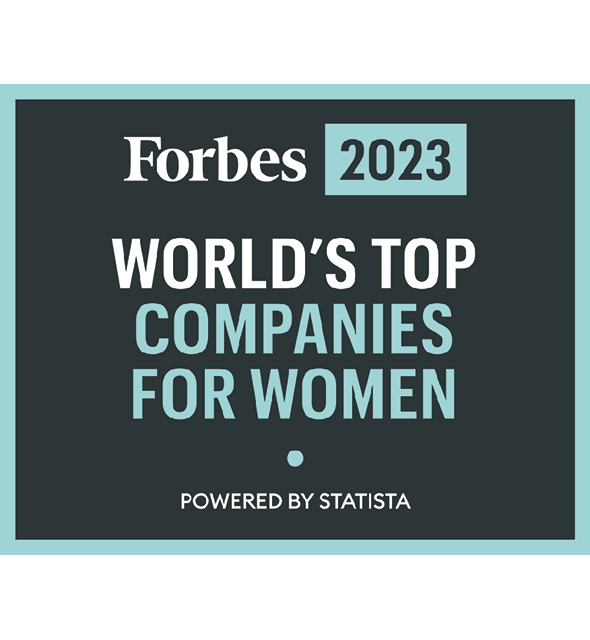 Recent news
Forbes Names Bacardi Among World's Top Companies for Women 2023
November 14, 2023
Hamilton, Bermuda, November 14, 2023 – Bacardi, the world's largest privately held international spirits company, is celebrating its recognition by Forbes on the list of World's Top Companies for Women 2023. Women in Leadership is among the key pillars of the company's Belonging program, which strives to create a space where everyone is treated fairly and provided equal opportunities. Belonging at Bacardi is a global movement focused on creating programming, development opportunities and more in support of underrepresented groups, including women, in the spirits world.
Many great women make up the Bacardi story, beginning with Doña Lucia 'Amalia' Victoria Bacardí Moreau — the wife of the rum founder, Don Facundo Bacardí Massó. It was her financial and creative support that kept their growing rum business alive during the turbulent early years, in Santiago de Cuba. At the same time, she was also raising a family of independent, free-thinking entrepreneurs who went on to devote their careers to the company and their local community. It was Doña Amalia's idea to put the bat on the bottle and hence the "rum of the bat" was born.
We are incredibly proud for Bacardi to be recognized by Forbes as a great workplace and to continue the legacy of supporting women within the company and our industry. The people at Bacardi inspire me every day and together, we continually push the needle to create a more inclusive workplace for everyone."
Leila Stansfield, Global Belonging Lead and Head of Global Travel Retail for Bacardi.
Family-owned Bacardi has focused on driving balanced recruitment, attrition and development through trainings, resources and a focus by both leaders and more than 500 individuals across the globe who champion Belonging efforts. The company offers several programs to support personal and professional development for women, including a global mentorship program that links women to leaders and allies across markets and functions. Another program available across several countries supports future female leaders by providing them the framework, tools and community to better understand themselves and their goals. Content includes sessions on self-awareness and confidence, defining your personal brand and authentic leadership style, and building a personal roadmap for your career.
The impact of the work is reflected in how people feel about working at Bacardi. In the latest global annual engagement survey, women and men rated dimensions of workplace satisfaction, wellness, DEI, and other core topics, similarly, demonstrating best-in-class engagement levels across both genders.
The World's Top Companies for Women 2023 have been chosen among multi-national corporations that were evaluated in multiple globally administered independent surveys of approximately 70,000 women in 37 countries. Over 650,000 data points were collected. The final analysis is based on three scores:
Employer Brand Score: Women were asked to rate how their employer performs across a series of gender-related topics. In addition, they were asked to rate their overall willingness to recommend their employer and assess them across other, more general, workplace satisfaction questions. Women were also prompted to evaluate other employers in their respective industries that stand out either positively or negatively.
Public Opinion Score: A women-only public opinion survey measured how women perceive companies in terms of gender equality.
Leadership Score: Objective criteria (i.e., the presence of a female CEO and the share of board/executive committee positions filled by women) were gathered via extensive desk research.
This award is the recognition of the efforts by many people across our business who help create a greater sense of Belonging."
Scott Northcutt, SVP Global Human Resources and Executive Sponsor for Belonging at Bacardi.
Last year, Bacardi made the Forbes World's Top Female Friendly Companies and has been certified Great Place to Work® in more than 50 sites.
This prestigious award is presented by Forbes and Statista Inc., the world-leading statistics portal and industry ranking provider. Statista publishes hundreds of worldwide industry rankings and company listings with high profile media partners. This research and analysis service is based on the success of statista.com, the leading data and business intelligence portal that provides statistics, business relevant data, and various market and consumer studies and surveys.
About Bacardi Limited
Bacardi Limited, the world's largest privately held international spirits company, produces, markets, and distributes spirits and wines. The Bacardi Limited portfolio comprises more than 200 brands and labels, including BACARDÍ® rum, PATRÓN® tequila, GREY GOOSE® vodka, DEWAR'S® Blended Scotch whisky, BOMBAY SAPPHIRE® gin, MARTINI® vermouth and sparkling wines, CAZADORES® 100% blue agave tequila, and other leading and emerging brands including WILLIAM LAWSON'S® Scotch whisky, D'USSÉ® Cognac, ANGEL'S ENVY® American straight whiskey, and ST-GERMAIN® elderflower liqueur. Founded more than 161 years ago in Santiago de Cuba, family-owned Bacardi Limited currently employs approximately 9,000, operates production facilities in 11 countries and territories, and sells its brands in more than 160 markets. Bacardi Limited refers to the Bacardi group of companies, including Bacardi International Limited. Visit http://www.bacardilimited.com or follow us on LinkedIn, Instagram or X.