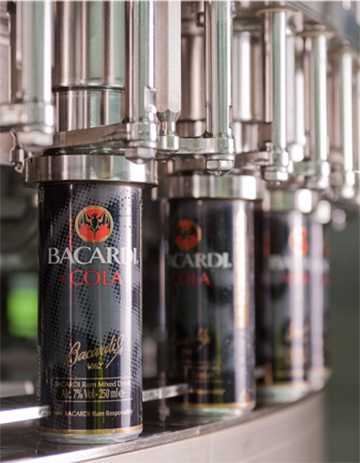 Are you an inventor or IP broker and believe your invention can be of interest to us?
Bacardi welcomes your packaging, liquid or method of consumption submission. We aim to give you feedback within six weeks.
We have particular interest in solutions for:
Liquid & Processing
New mouth feel sensations
New methods or processes for producing alcohol
Natural preservatives and antioxidants stable in alcoholic beverages
Device to measure aging process parameters real time in wooden casks and barrels
Ways to preserve shape and color of leaves and/or fruit pieces for months
Packaging & Dispensing
New container materials: alternatives to known glass, PET, aluminum and plastic pouches
Breakthrough packaging components: alternatives to known containers, closures, labels, gift boxes, cartons and pallets
Ways to keep a cocktail separate in two or three parts until time of consumption
UV protection for transparent flint glass at affordable cost
Self-cooling container at affordable cost
We are not interested in the following areas:
Cocktail recipe suggestions. We rely on our professional mixologists and beverage scientists to convert consumer insights into great tasting drinks
Simple 'ideas' that are in a conceptual stage and not yet developed or implemented in a specific way
In order to protect both parties' interests, you need to follow the three-step approach described below:
STEP 1: FIRST APPROACH
First Approach
You need to describe your invention,
without disclosing confidential
information at this early stage. A relevant
submission needs to answer for instance the
following questions:
What benefits does the invention provide to our consumers?
Was a patent filed?
Are some prototypes available?
What is the estimated cost?
If you are a company, please provide us with an overview of your business
STEP 2: CONFIDENTIALITY PHASE
Confidentiality Phase
If our Innovation Team believes
there is an interest for Bacardi to further
investigate your invention, you will be
asked to sign a mutual non-disclosure
agreement before sharing confidential
information. By signing this document, both
parties commit to keeping information
related to the invention confidential for a
limited period of time (typically 3 years).
Both parties can then safely share
confidential data and assess the possible
application of the invention to some of
Bacardi's products.
STEP 3: PARTNERSHIP
Partnership
Once we are convinced about the potential success of your invention combined with our products, both parties will enter into a negotiation phase and formalize how the partnership should be set up. Several
options can be envisaged,
including: acquisition of
intellectual property,
licensing of intellectual
property, supply of goods,
etc.
Describe your invention.

Please select first!