Key Highlights
Bacardi in India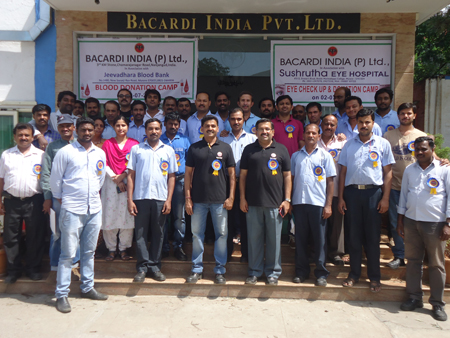 Bacardi in India and its Good Spirited initiatives address internal and external improvements in its multifaceted strategy. Bacardi's Nanjangud facilityis the FY17 Good Spirited Production Facility Winner because of its extraordinary creative engagement of stakeholders and innovation in promoting eco-conscious and socially responsible initiatives.
The facility's efforts, which included a reduction in energy use and a polluted riverbank cleanup exemplifies a full-circle commitment to our Company culture as the facility delivered the most balanced impact for the environment, the Company, and within the community where it exists.
Specifically, the Nanjangud facility reduced power consumption by 15 percent over the last two years as it optimized operations with a complete changeover to LED lighting from less-efficient CFL bulbs. The facility didn't stop there—it promoted energy-saving tips and awareness on campus. Additionally, it reached out to four nearby villages to work together to replace grossly inefficient and expensive incandescent lighting with 160 recycled CFL bulbs removed from the plant during the LED-bulb changeover.
Indian team members also illustrated their commitment to the Good Spirited culture as 15 employees worked tirelessly for several hours to clean up the bank of the Kapila River. The crew removed cloth debris as well as non-biodegradable trash and plastic.
Together, the facility's activities show its dedication to live "Good Spirited" and responsibly help the next generation. Congratulations to Bacardi in India and our other 3rd Annual Good Spirited Award Winners
Beverage Industry Environmental Roundtable

As a founding member of the Beverage Industry Environmental Roundtable (BIER), a coalition of leading global beverage companies working together to advance environmental sustainability, in FY17 Bacardi signed the Joint Commitment on Climate Change.
This commitment further helps develop energy saving and water reduction solutions that have a broader impact in the beverage sector. We also participate in the benchmarking assessment to understand better how we compare with other industries within the beverage sector, and to promote best practice sharing. Bacardi actively participates, with other member companies, to drive the environmental sustainability agenda for the beverage sector. Members work on areas such as water stewardship, climate change, and future scenario. We will continue to work with our industry partners to develop tools and methodologies to help understand, reduce, and mitigate environmental impacts.
#NoStraws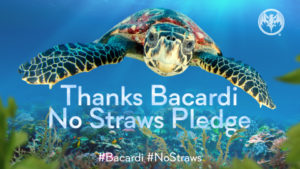 Launched in March 2016, the Bacardi No Straws initiative aims to remove plastic straws and stirrers in cocktails at company events and eliminate them at our distilleries and visitor centers.
Plastic straws are among the top 10 pieces of trash collected in oceans, and we wanted to do our part. Our efforts in FY17 have saved more than one million straws from ending up in the ocean!
Learn more about our efforts: https://www.bacardilimited.com/bacardi-initiates-a-no-straw-movement-to-reduce-waste-2/
Angel's Envy Toast the Trees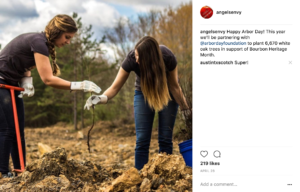 Beginning in 2014, Toast the Trees is Angel's Envy's philanthropic program created to give back to the whiskey world during September's National Bourbon Heritage Month. Angel's Envy partners with The Arbor Day Foundation to ensure that there will always be enough white oak trees for future generations of bourbon drinkers.
Every time a fan shares an Angel's Envy drink photo (neat, on the rocks, or cocktail) with the hashtag #AE4THETREES, Angel's Envy will plant a white oak tree. Last year, Angel's Envy was able to plant 6,670 white oak trees in Kentucky's Daniel Boone National Forest. Since the program began, over 13,000 trees have been planted across Kentucky and Appalachia.