Key Highlights
Renewable Energy in Mexico -
 

Good Spirited Award Winner!

Bacardi in Mexico guaranteed that electrical consumption in Arandas and Tultitlán facilities come from 100% renewable resources, specifically from wind farms. With the supply of electricity from renewable sources, the two facilities eliminated their indirect CO2 emissions, avoiding the emission of 2,795 tons of CO2, equivalent to the emissions generated by 417 compact cars for one year. Bacardi in Mexico has been known as an example of environmental leadership. In 2015, the Arandas facility installed a biomass boiler achieving a reduction of more than 80% of CO2 emissions. Now in 2019, Bacardi in Mexico is proud to report that 100% of indirect CO2 emissions were eliminated by using renewable electricity. 
Increasing Recycling in Mexico City Bars and Restaurants
Bacardi, in partnership with the social aspect organization, FISAC, established an agreement to collect solid waste from the main bars and restaurants of Mexico City in order to reintegrate them into a productive cycle through recycling, reducing the amount of waste that reaches a landfill. At this time, 56 bars and restaurants are in the program recycling 130 tons of glass, 45 tons of cardboard, 4.5 tons of PET and 0.8 tons of aluminum. The program aims to expand to at least 250 bars and restaurants so that 850 tons of glass, 430 tons of cardboard, 50 tons of PET and 10.5 tons of aluminum can be recycled instead of trashed.
Water Reuse at PATRÓN -
 

Good Spirited Award Winner!

Hacienda PATRÓN dedicated their efforts to the reuse of water. Initiating smarter practices across four platforms, tequila production, liquors production, garden maintenance, and treatment wastewater, the team was able to reuse 10,108 cubic meters of water in the last year. 
Packaging Innovation for MARTINI - Good Spirited Honorable Mention!
By working on slight changes on diameter and neck profile not visible to the final customer, the MARTINI team at the home of the brand in Pessione, Italy significantly decreased the weight of a new bottle design for the MARTINI Royale Ready-to-Serve (RTS). The weight reduction signifies less energy required to produce and transport the containers from the manufacturer then to the consumer.
Sustainable Office in Switzerland - Good Spirited Award Winner!
Driven by the Green Team in Geneva, office enhancements set the standard to make a positive impact on the environment. Among actions including LED tube installation, temperature set point reduction, and no more usage of plastic cups office-wide, the car sharing program for commuters to both the Geneva office and to the Pessione site in Italy, reigned the most visible and impactful.
Planting White Oak Trees in Kentucky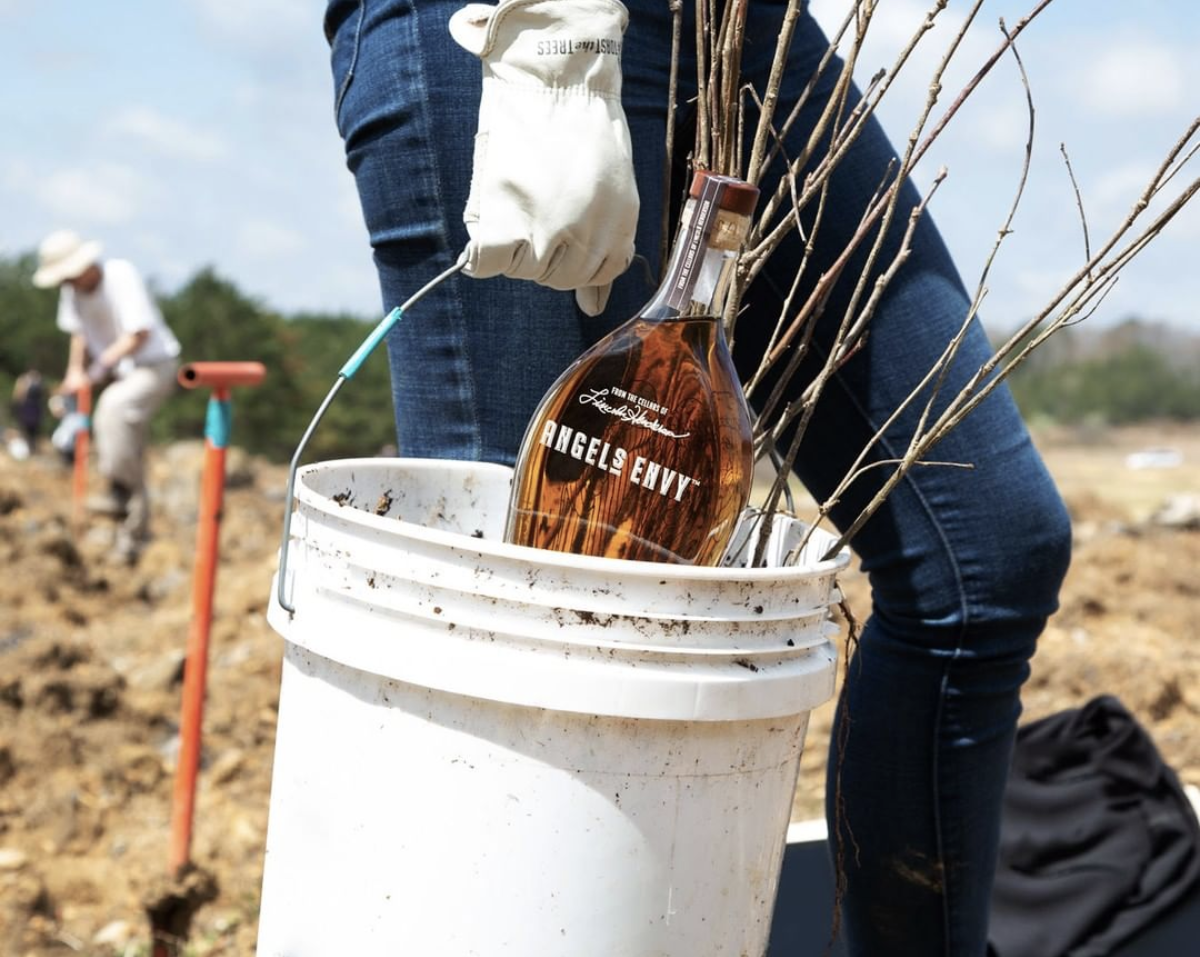 Bourbon must legally be aged in new oak barrels, but each white oak tree (the most commonly used tree for North American bourbons) yields between one and three barrels and takes about 70 years to mature. To raise awareness for the increased need for healthy white oak trees, ANGEL'S ENVY conducts its annual initiative, "Toast the Trees." ANGEL ENVY pledges each year to plant one white oak tree for every photo of an ANGEL'S ENVY drink or bottle posted throughout the month of September on social media using the hashtag #ToastTheTrees. In 2018, ANGEL'S ENVY's "Toast the Trees" initiative garnered 20,724 hashtags that resulted in 20,724 new white oak trees planted in spring 2019. Since the program's inception, ANGEL'S ENVY has planted more than 45,000 new white oak trees throughout eastern Kentucky and the surrounding Appalachian areas with the Arbor Day Foundation and Green Forests Work.
The Future Doesn't Suck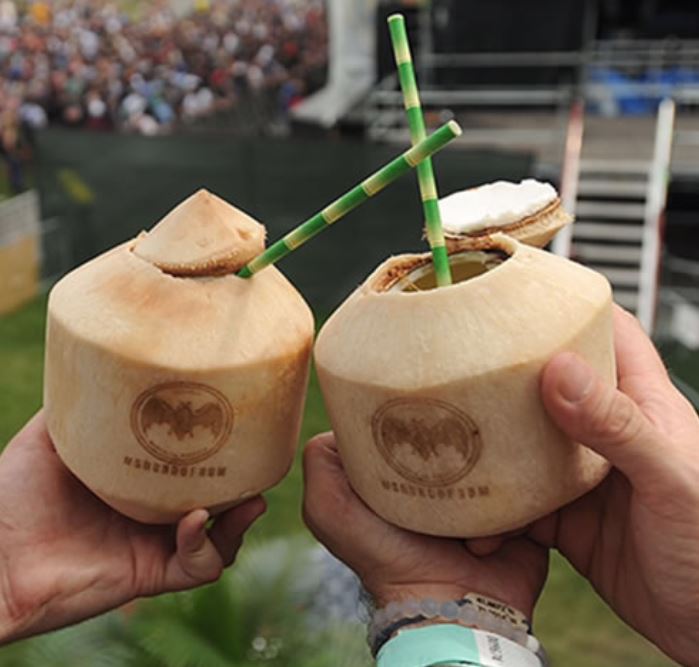 Since 2016, Bacardi has been on a mission to eradicate single-use plastic straws from cocktail experiences. In collaboration with Lonely Whale, a non-profit dedicated to bringing forward courageous ideas that positively impact the health of our ocean, Bacardi has been engaging consumers, customers and the bartending community to be part of the movement to eliminate 1 billion plastic straws by the end of 2020 as part of #TheFutureDoesntSuck. 
Efforts began in the US and UK where BACARDÍ rum music festivals served plastic straw free cocktails and asked concertgoers to make a personal pledge to stop using single-use plastic straws by visiting www.thefuturedoesntsuck.org. Art installations at Life is Beautiful in Las Vegas called out the impact of plastic to our oceans and offered an Instagrammable moment to help spread the word and drive sign ups. In Miami and New York City, our rum aficionados invited top mixologists to beach clean ups and talks about sustainability. At Tales of the Cocktail®, the world's premier cocktail festival, BACARDÍ rum hosted National Daiquiri Day where guests were asked to sign the pledge and join a New Orleans style procession to drive awareness. 
The collaboration has since extended across seven countries, including China where a kickoff event brought together media and industry leads such as Cachet Hospitality Group, to promote the movement.
Participating accounts received a Bacardi No Straws award to showcase their commitment to guests ordering at the bar. Within a month, this China No Straws campaign had nearly 6.35 million impressions and successfully onboarded large hotel chains and restaurants to the movement. This No Straws campaign also won the first Sustainability Year presented at The DRiNK Magazine Bar Awards 2018. These efforts were recognized by the inaugural Sustainability Award at the DRiNK Magazine Bar Awards in China. 
To keep the conversation going on social, a digital campaign featuring comedian and activist Daniel Franzese requested the removal of plastic straws from the soda cup and cocktail emojis. To date, two emoji makers have removed plastic straws from designs. The hope is that by removing plastic straws from digital usage, cultural norms around drinking with single-use plastic straws will shift altogether.
Bacardi continues to work with national account partners to help them find alternate solutions to plastic straws and to train bartenders about how to make the shift while still delighting consumers at the bar.