Alcohol Responsibility
Beer, Wine & Spirits Producers' Commitments to Reduce Harmful Drinking
In 2012, Bacardi, along with other leading producers of spirits, wine and beer, decided to unite in a concerted effort to tackle the global problem of harmful use of alcohol through the creation of five Commitments to Reduce Harmful Drinking for delivery over a five-year period (2013-2017). The intention was that these will make a real contribution towards the global target set by the world's governments of "at least a 10% relative reduction in the harmful use of alcohol" by 2025.
Each commitment is supported by several key performance indicators (KPIs) and the 12 signatories report against these with collective progress reported in an annual progress report available at: www.producerscommitments.org

Specific activity Bacardi has undertaken to contribute toward these in FY17 included:
• Ensuring 100% marketing agency contracts are in compliance with the Producers' Commitments and include clauses mandating compliance with responsible alcohol advertising codes.
• Ensuring measured advertisements for all brands had an audience of at least 70% above minimum legal drinking age and confirming this through an independent auditor.
• Support of 38 drunk driving prevention campaigns across 19 countries.
• Education programs with 17 country-level Social Aspect Organizations, e.g. DrinkWise, Educ'alcool, Avec Moderation!, FISAC, ZP PPS, Drinkaware, Fundacion Alcohol y Sociedad, and Responsibility.org., reaching:
• 1,148,045 underage individuals
• 1,626,814 influencers
Ask, Listen, Learn: Kids and Alcohol Don't Mix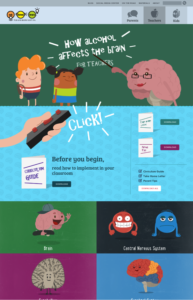 The U.S. based Foundation for Advancing Alcohol Responsibility (Responsibility.org) and its member companies, including founding member Bacardi U.S.A., Inc., have a longstanding commitment to keep alcohol out of the hands of American youth. Independently evaluated and developed alongside a team of educators and organizations specializing in educating middle school-aged students (aged 9-12), Ask, Listen, Learn: Kids and Alcohol Don't Mix is the most widely distributed program of its kind. The program has reached more than 62 million kids and teachers as of the end of FY17 and encourages users to say "yes" to a healthy lifestyle and "no" to underage drinking. The program content includes animated videos about brain science, corresponding lesson plans, interactive classroom activities, vocabulary exercises, comprehension questions, a facilitator's guide, brochures, a sample letter to parents, and interactive games.
From 2003 to 2016, conversations between kids and their parents increased 73% (Responsibility.org). During that same period, the 2016 Monitoring the Future survey showed that underage drinking decreased 50%. While we can correlate the increase in parent/child conversations and the program's strong distribution network with a decrease in underage drinking, there is still more work to be done. It is critical to continue to reach middle school aged kids and offer tools to parents and teachers to teach kids how the brain works, what alcohol does to the brain, and how that affects them.
Slow Drinking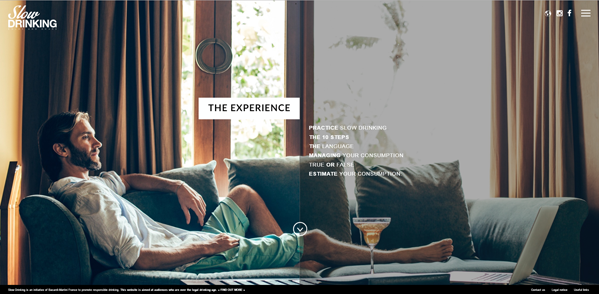 Created by Bacardi in France in 2012, Slow Drinking was developed in response to the European slow movement - a cultural shift toward slowing down life's pace and enjoying life's pleasures. Applied to the consumption of beverage alcohol, it promotes responsible consumption by transforming a simple drink into the art of tasting by giving priority to quality over quantity.
Crafted together with lifestyle and culinary experts, 10 principles emerged that encourage savoring your cocktail with friends, with food, and always in the right amount. The Slow Drinking website is now in three languages (French, English and Italian) and in FY17 expanded to Spain and Italy. Through education on social media networks (with more than two million people reached in FY17) and Slow Drinking workshops, the goal of Slow Drinking is to engage our consumers, customers, and partners in a movement that promotes moderate, responsible, and enjoyable consumption, in line with the Producers' Commitments. Visit SlowDrinking.com.
Orange Bowl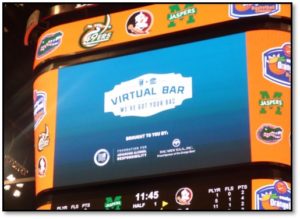 Bacardi has been an Official Festival Sponsor of the Orange Bowl for more than 30 years. The Orange Bowl Committee and Festival provided more than $1.5 million in funding, grants, and scholarships in South Florida through their more than 100 annual events in FY17.
Through our partnership, Bacardi highlights alcohol responsibility messages at Orange Bowl events, including the MetroPCS Orange Bowl Basketball Classic, the Bacardi Rhapsody Party, and the Capital One Orange Bowl. These messages included impaired driving PSAs, promotion of Responsibility.org's Virtual Bar app to measure Blood Alcohol Content (BAC), and providing responsible drinking resources on communication materials; all of which resulted in more than 250,000,000 impressions.