Key Highlights
Responsible Marketing in a Digital Age
Since 2012, Bacardi has been committed to responsible marketing practices on digital platforms through our partnership with the International Alliance for Responsible Drinking (IARD). In this rapidly changing field, it is critical that measures and standards are in place to ensure our advertising and marketing messages target adults of legal drinking age who choose to drink. Robust responsible marketing standards for digital channels were developed to promote best practices. CEOs of signatory companies, including Bacardi, committed to these standards which include five safeguards to prevent minors from seeing alcohol marketing online: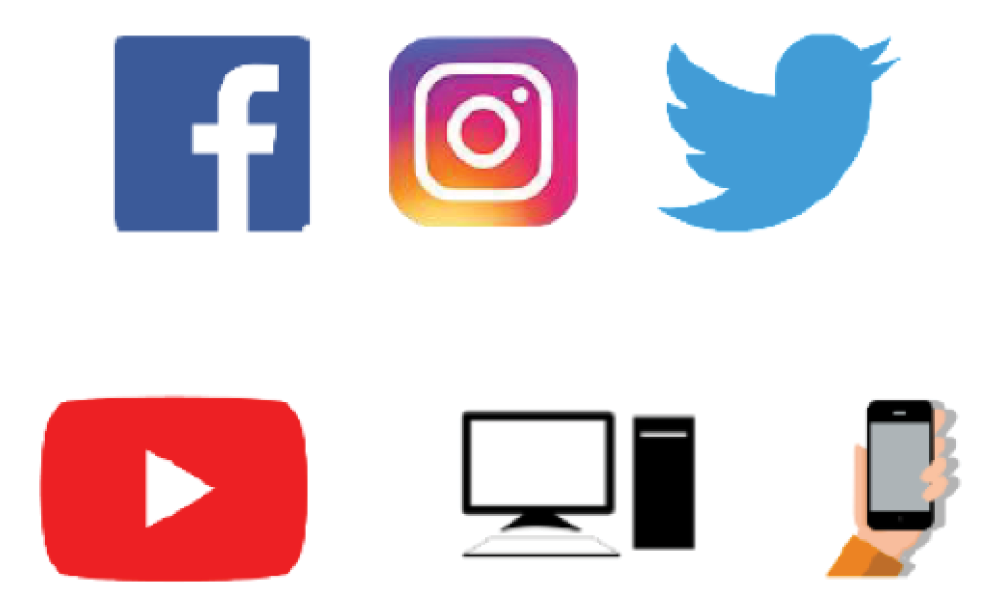 Digital Guiding Principles: 5 Safeguards 
1. Include an age affirmation mechanism for all social media sites to ensure marketing communications only engage adults over the legal drinking age
2. Implement a Forward Advice Notice (FAN) stating that all content should not be forwarded to anyone under the legal drinking age
3. Promote responsible consumption, including a responsible drinking message
4. Secure transparency statement / official statement authenticating accounts
5. Make available Community guidelines on User Generated Content (UGC) policy
These safeguards are only as effective as they are followed by the industry. To ensure compliance with the digital safeguards, an audit was conducted in 2018 by the World Federation of Advertisers (WFA) and IARD. Bacardi brand marketing teams worked hard to implement the safeguards of the Digital Guiding Principles, and Bacardi achieved 79% compliance in the markets audited. While 14 markets were audited*, we are actively striving for similar performance in all commercially active markets. Next year, we are aiming to achieve 100% compliance. Together we are committed to doing our part to help reduce the harmful use of alcohol. 
* The 14 markets audited were Australia, Canada, Chile, Colombia, France, Germany, Hungary, Italy, Japan, Mexico, South Africa, Spain, The Netherlands, and UK.
Nutrition Transparency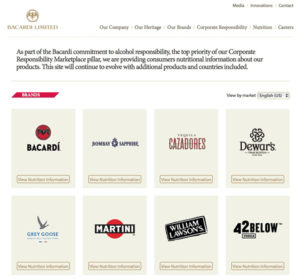 As part of the Bacardi commitment to alcohol responsibility, we believe consumers should have access to the nutritional information about their product choices. Consumers interested in knowing the calories, fat, carbohydrates, sugar, protein, salt, caffeine, and allergens of Bacardi products need visibility to that information. That is why we launched the Bacardi nutrition website last year with information on products available in the USA, United Kingdom, France and Spain. We want more consumers around the world to know the nutrition of their beverage choices and have continued to add more products and countries. The most recent countries added to the nutrition site were Germany, Russia, and Belgium. Details on the site are listed by recommended serving size for each product, according to country standards. Learn more on the nutrition section of https://www.bacardilimited.com/.
Preventing Drinking and Driving in Russia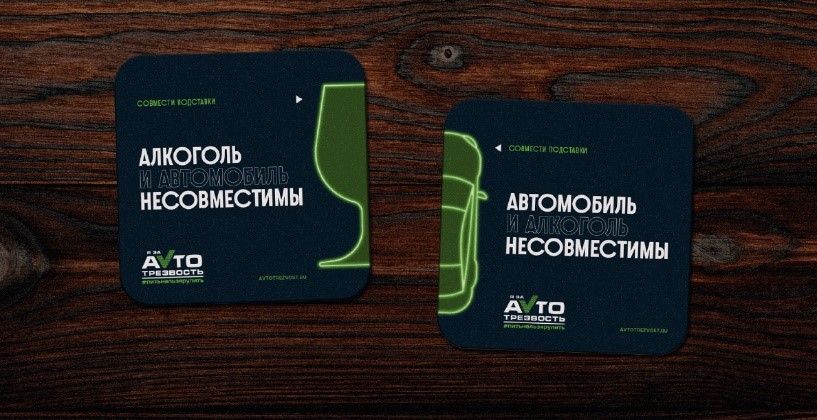 Alongside other industry members in Russia, Bacardi participates in the drunk driving prevention program, "Avtotrezvost." This ongoing social project to prevent drinking and driving aims to decrease the number of alcohol-related driving accidents in Russia by targeting students in driving school. Developed by the Moscow State Automobile and Road Technical University, the educational module includes training on the influence of alcohol on the body, the laws and statistics around drunk driving, and alternatives to drinking and driving. With the slogan, "Not a single sip while driving," the program is designed to promote, "a clear mind and vision while driving." Avtotrezvost has reached 230 driving schools and more than 20,000 students across
14 regions in Russia as of 2018. 
Avtotrezvost has also gone beyond driving schools to reach another audience in the bars. This campaign was rolled out on Russia's Driver's Day and utilized a creative approach to capture the consumer's attention. A pair of coasters, one for "drinking" and one for "driving" was developed with magnets inside. When a consumer tried to put the two coasters together, "drinking" and "driving" physically bounced off each other. Over 7000 interactive coasters highlighting that alcohol and driving are incompatible were distributed to consumers.
Reducing Underage
 

Drinking in Portugal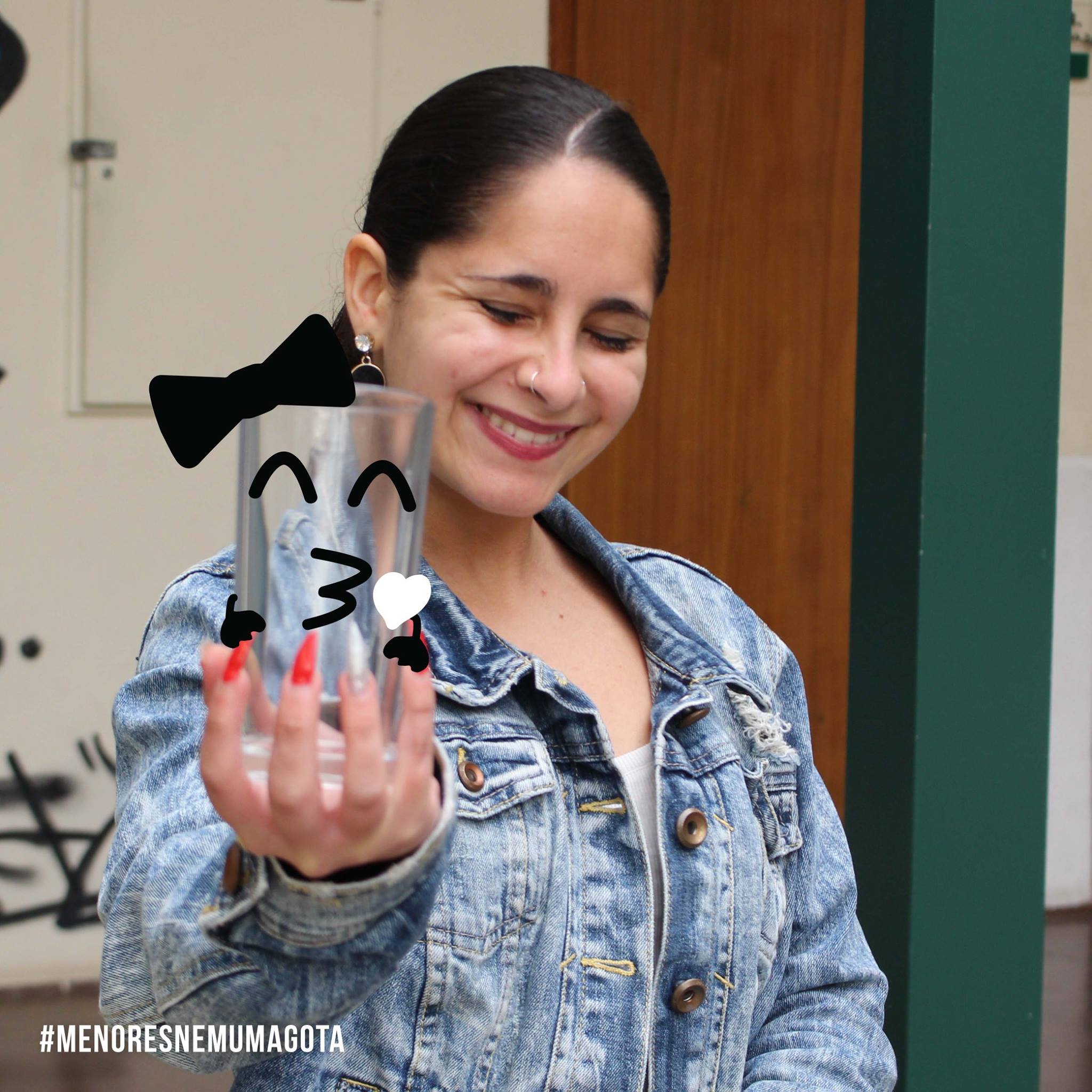 Following original success in Spain, the campaign "Menores Nem Uma Gota," (translated to "Minors Not a Single Drop,") was rolled out in Portugal in 2018 with the Portuguese industry association, ANEBE (Associação Nacional de Empresas de Bebidas Espirituosas). 
With the aim to reduce alcohol consumption by minors by 2020, the campaign mobilizes well-known voices, social organizations, and public and private institutions to increase the average age of beginning to drink by two years. In 13 schools across Portugal so far, trainings were held to inform underage individuals of the physical and mental health risks related to early drinking. The trainings are designed to change perception around underage drinking to make it socially unacceptable and to help parents set clear boundaries for their children. The campaign doesn't stop its reach at schools. Wider audiences can access the messages and information through online videos, radio shows, and more. 
Encouraging "Slow Drinking"
 

in France and Beyond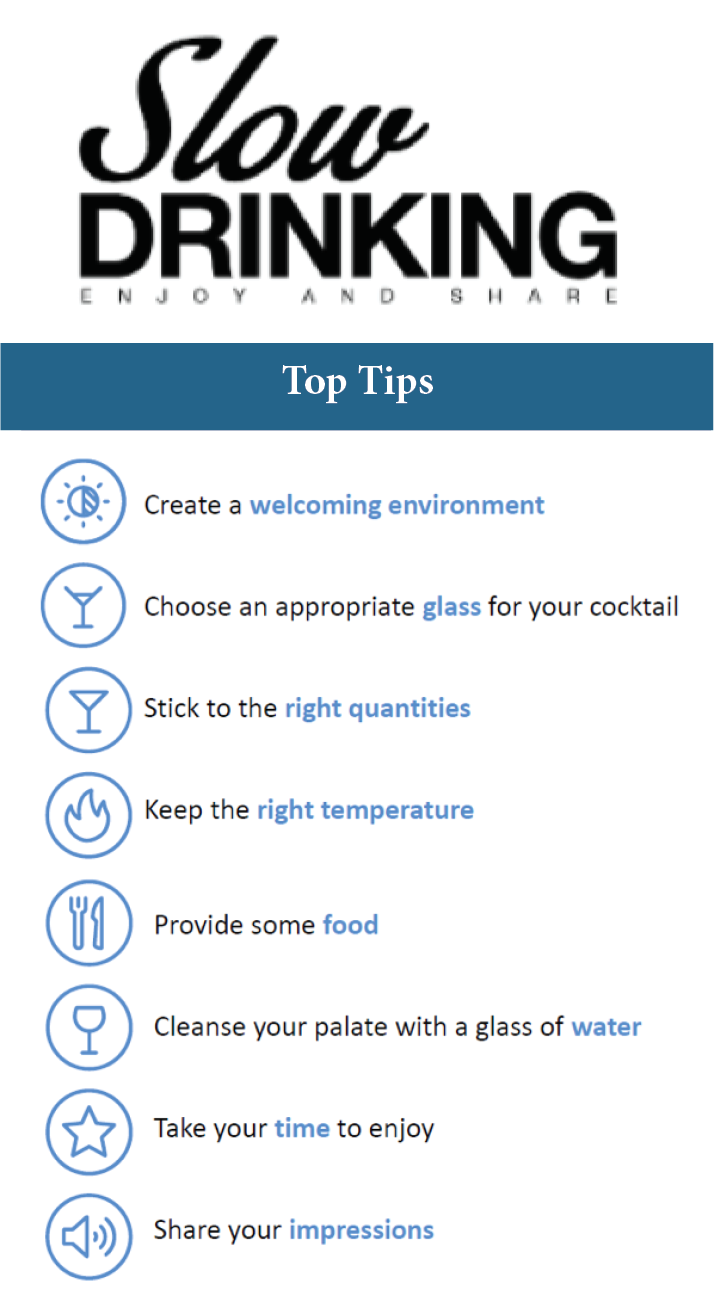 The Bacardi purpose statement, "Celebrating moments that matter, one drink at time," comes to life in the popular campaign: "Slow Drinking." First developed by Bacardi back in 2011 in France, Slow Drinking quickly expanded to Italy and Spain to promote responsible consumption by transforming a drink into the art of tasting. Many people who drink do so in a way that enhances their enjoyment of life and sociability of enjoying a drink with others. But there are others who may drink irresponsibly – occasionally or regularly – and create health and social problems for themselves and others. That's why risk is not just a result of how much you drink, but also of when and how you drink. The campaign helps consumers slow down by encouraging them to rediscover pleasures packed with sensations, to think about tastes, to listen to their senses and better satisfy them. It offers tips and guidance for celebrating moments that matter by taking the time to prepare, share, and savor one drink at a time. By focusing on quality and slowness, the program elevates the concept of mindful drinking. 
Today, Slow Drinking is a platform in many countries in Europe that delivers responsible drinking messages all year long. Through the digital channels, it fosters a community of people who are interested in mindful drinking. The community can access resources such as the 10 slow drinking tips (listed to the right). Beyond the digital world, in 2018 the campaign has also been activated in retail stores so that the Slow Drinking messaging can be found where consumers purchase Bacardi products. More information can be found at www.slowdrinking.com.