Corporate Responsibility at Bacardi
"Celebrating moments that matter, one drink at a time."
Our Purpose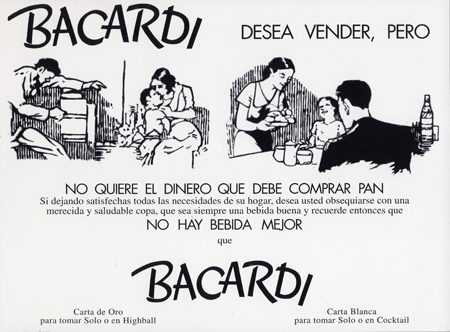 Doing the right thing has been core to Bacardi since its foundation more than 150 years ago in Cuba as a single rum brand. Today, family-owned Bacardi is the world's largest privately held spirits company in the world with a portfolio of premium brands that includes BACARDÍ® rum, GREY GOOSE® vodka, PATRÓN® tequila, DEWAR'S® Blended Scotch whisky, BOMBAY SAPPHIRE® gin, and MARTINI® vermouth and sparkling wines. While our business has grown, who we are and what we stand for remains the same after seven generations.
Since its early days in Santiago de Cuba, Bacardi has been committed to giving back to communities, marketing responsibly, operating sustainably, taking care of our people, and doing the right thing. From establishing schools and libraries to building orphanages and hospitals and to even opening the first museum in Cuba, the Bacardi family has set a precedent of giving back. Since then, there have been many examples of corporate responsibility efforts, including an awareness campaign against excessive alcohol consumption in the 1930s in Mexico with the wording (in Spanish), "Bacardi wants to sell, but it does not want the money you should use to buy bread." In the 1970s, Bacardi developed the advertising campaign, "Bacardi mixes with everything. Except driving."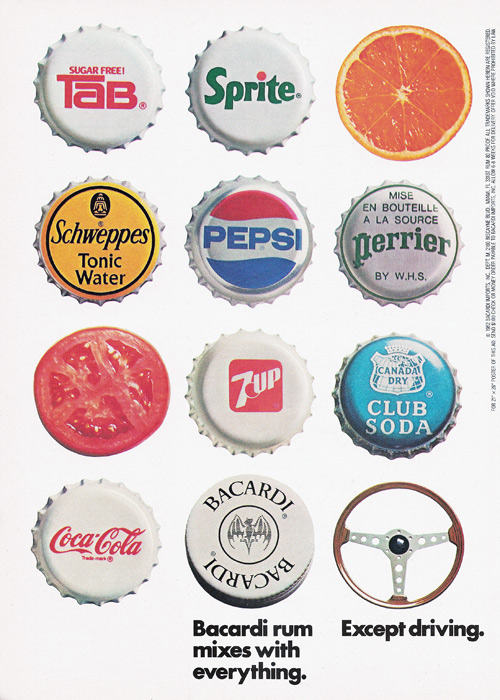 Doing the right thing drives everything that we do, and we're proud to set the bar high in developing an integrated and values-driven corporate responsibility platform we call Good Spirited. Our efforts are embedded across our business, starting with the very foundation of the company strategy and reaching the very top through the company's purpose statement. The company strategy - BEST10 - was launched in March of 2019 and promises to deliver the next best 10 years at Bacardi. In BEST10, Bacardi designated "Do the Right Thing" as one of the five foundations of the strategy. It also established, "Celebrate moments that matter, one drink at a time," as the Bacardi purpose statement. With a strong foundation and clear purpose, corporate responsibility touches all facets of the business and is part of the role of all Bacardi people.
Our Good Spirited Global Goals
As one of the largest producers of distilled spirits in the world selling in more than 170 countries, operating more than 20 production facilities in 12 countries, and employing more than 6,000 people, who are referred to as Primos (the Spanish word for cousin), we take our responsibility seriously. From the ways we target our marketing only to adults who choose to drink, to how we source our ingredients and the quality of materials used to make our premium products, to our commitment to support and care for our employees and the communities in which we live and work, Bacardi is committed to doing the right thing. That's why we have a total of five Good Spirited Global Goals that guide our efforts across the company: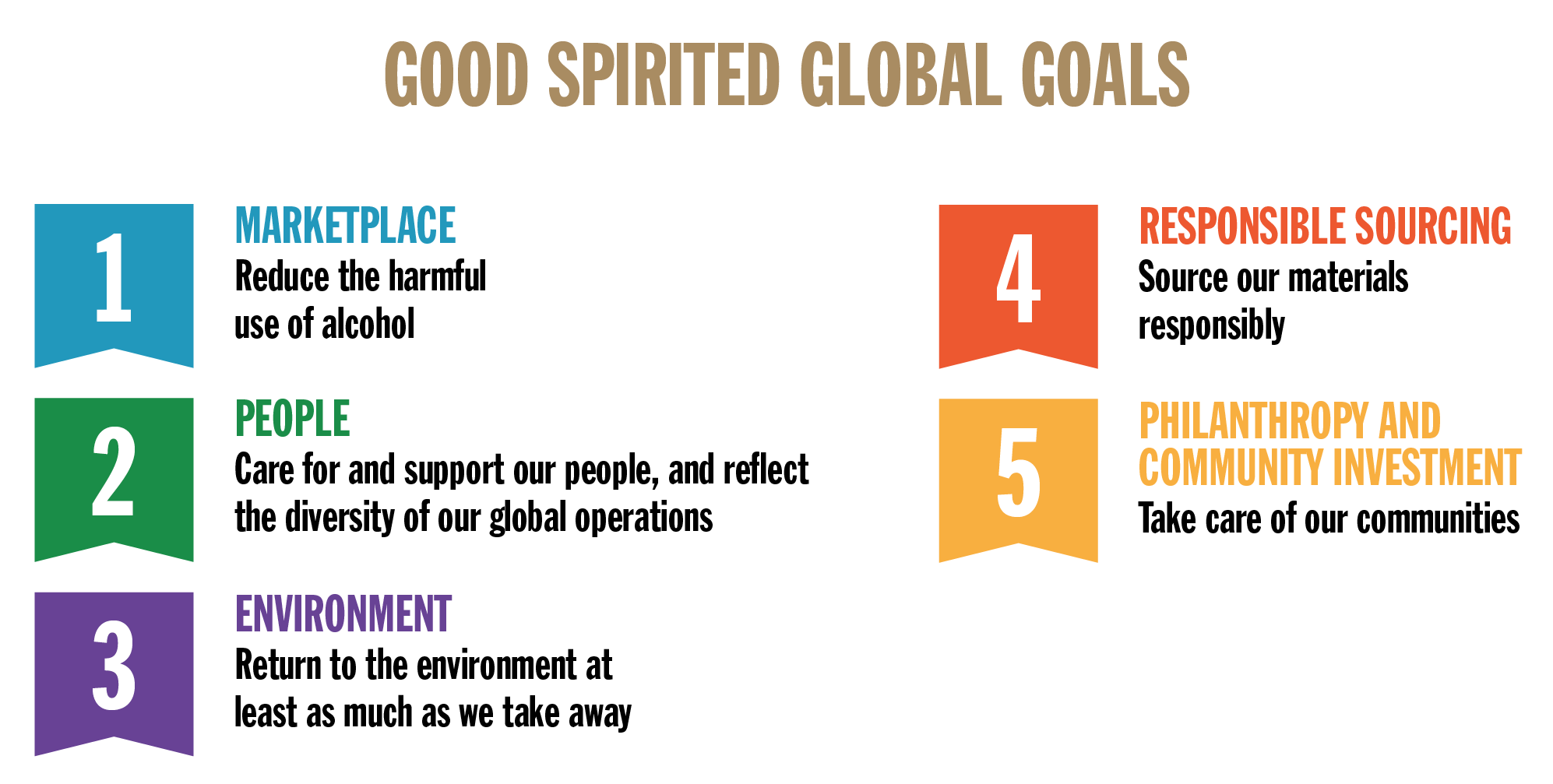 The Bacardi Good Spirited Global Goals start with our responsibility in the marketplace. As a beverage alcohol producer, we know some people can misuse our products in a harmful way, and we want to do our part to reduce the misuse. Our commitment to responsible drinking can be found in the purpose statement of our company, "Celebrate moments that matter, one drink at a time."Encouraging responsible drinking, reducing the harmful use of alcohol, and preventing underage drinking are commitments that start from the top.
Our aim is to deliver Corporate Responsibility programs that make a difference and are responsive to stakeholder expectations. We work together with other stakeholders across the industry to maximize our impact and ensure our efforts are aligned with changes and developments in the marketplace and beyond. We are active members of organizations such as the International Association for Responsible Drinking and the Foundation for Alcohol Responsibility, and why we aligned our Good Spirited Global Goals with the United Nations Sustainable Development Goals.
Throughout this report for fiscal year 2019 (FY19), you'll find highlights of our commitment to corporate responsibility, such as:
Bacardi celebrated being named once again among the most reputable companies in the world, as part of the annual Global RepTrak® 100 list compiled by the Reputation Institute (RI) and published in Forbes. Ranked at #87, Bacardi climbed two spots and has made the annual global list seven consecutive times.
Bacardi is committed to marketing our products responsibly to adults who choose to drink, including on digital channels. In this rapidly changing field, CEOs of signatory companies, including Bacardi, committed to standards which included five safeguards to prevent minors from seeing alcohol marketing online. Bacardi brand marketing teams worked hard to implement the safeguards, and Bacardi achieved 79% compliance in the markets audited by a third party and aims to achieve 100% by 2020.
We call Bacardi employees Primos, the Spanish word for cousin. As a family-owned company, the term carries with it the family spirit of Bacardi and reflects how connected we are to each other. We measure our performance on how well we take care of each other through our Primo Engagement Survey. In 2019, 92% of Primos shared their feedback and the results were best-in-class. 85% of our people would recommend Bacardi as a great place to work (an increase of 21% since 2017) and 89% feel proud to work for Bacardi.
Bacardi aims to be an industry leader in environmental performance, and we continued to make progress on our bold goals in 2019. With our Zero Waste to Landfill goal, we achieved 99.6% of waste diversion. We reduced our greenhouse gas emissions from our operations by 20% and our water consumption by almost 10%. Overall, we were able to utilize our assets more efficiently even with increases in production.
Back in 2013, we set an initial target of sourcing from 100% sustainable sources for our sugarcane-derived products used in our BACARDÍ premium rums by FY23. By the end of FY19, we have already achieved 98.4% sustainable suppliers through working with Bonsucro and aim to reach 100% by the of FY20.
Bacardi is supporting the long-term recovery and resilience of Puerto Rico after Hurricane Maria devasted the area in the 2017. In FY19, Bacardi and our partner, Mercy Corps, a global humanitarian and development organization, provided financial grants, business training, and marketing support to 243 businesses and their employees in Puerto Rico. By supporting local businesses, the storm-affected communities get the economic support they urgently need.
Our Approach in Context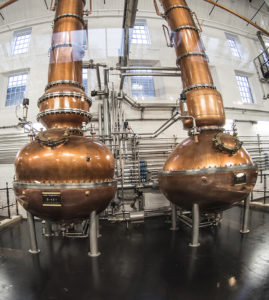 Our Good Spirited Corporate Responsibility approach is guided by the world in which we live and work. As a signatory to the UN Global Compact, we commit to their principles and communicate on our progress every year. We are also mindful of other global standards and work in partnership with other companies, governments, and civil society to align our targets with their goals to make a larger impact, including:
We are proud of the quality and heritage of our company and our brands, and Corporate Responsibility is an integral component of our business. We invite you to learn more about our work in each of our priority areas and our goals for the future.