Key Highlights
adm Partnership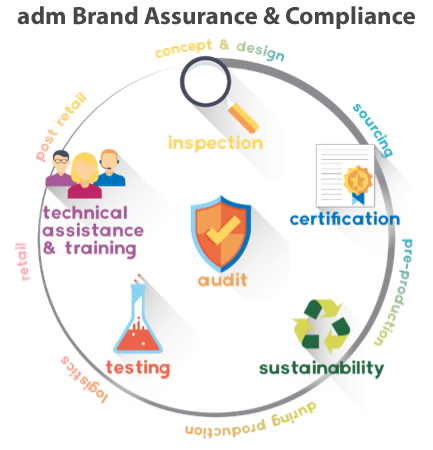 Bacardi has worked with adm since FY14 as our single partner for Global Point of Sale, and adm is our largest POS partner overall, accounting for 40% of total volume. adm CEO Justin Barton shares its CR philosophy, "We regard sustainable practice as a top priority…. we want to make a meaningful contribution to acting responsibly towards people and the environment. We are convinced that this is the only way to achieve business success."
Recently, Bacardi worked to develop our Global POS Quality Manual together with adm. The manual provides a process for ensuring our global standards are met in regards to purchasing any POS material. These standards include:
QMS (Quality Management System, based on ISO9001 requirement)
CSR (Corporate Social Responsibility, based on CSR standard SMETA BPG - Best Practice Guidance requirement)
EMS (Environmental Management System, based on ISO14000 requirement).
adm suppliers sign their Code of Conduct and submit an audit of their manufacturing site. In-house Sedex trained and certified auditors (unique to the POSM industry) use the SMETA 4 Pillar audit based on human rights, business ethics, environment, labor standards, and health and safety. adm works with suppliers on any non-compliance to ensure they are addressed in a given time period. As of FY17:
98% of adm suppliers are registered Sedex members and more importantly 96% of the factories used have a valid  SMETA 4 Pillar CSR audit in place.
adm achieved EcoVadis Gold rating with a ranking putting them in the top 1% of all 30,000 organizations assessed in all categories.
adm is a signatory to UN Global Compact (as is Bacardi).
As a rapidly expanding organization, adm is committed to ensuring it implements a compliance framework that allows it to be alerted to any emerging risks and have appropriate systems and processes in place to eradicate such risks. We are proud to be their partner and will continue to develop and embed our CR framework with all suppliers.