Key Highlights

Hurricane Disaster Relief
In 2017, Hurricane María devastated Puerto Rico. Immediately after the storm, Bacardi stepped up to help the recovery efforts, committing more than $3 million for rebuilding efforts. Two years later, communities there are still working to recover. That's why, in partnership with global humanitarian and development organization, Mercy Corps, Bacardi is supporting the long-term recovery and resilience of the region.
Bacardi and Mercy Corps recognized that helping local businesses bounce back and supporting natural habitat rehabilitation were key to Puerto Rico's recovery. A three-pronged program was developed with the support of Bacardi's $1.2 million investment:
• Direct support for small businesses, including financial support, training, business boot camps, marketing support and mentoring
• Natural area rehabilitation and recovery, including coral reef rehabilitation, beach and water cleanups, building new trails and more
• Marketing and outreach to spread the word that Puerto Rico is open for business!
Over the last year, we have directly impacted 243 individual businesses and their employees and several natural areas across Puerto Rico. Here are some examples from our partnership.
Business Recovery Highlight:
 

Donna Durán, Small Business Owner, Cayey
Donna owns Finca Eco-Sustentable Siempre Verde (Always Green Farm) in Cayey. Finca Eco-Sustentable Siempre Verde has been in operation for thirty years. Like many farmers, after Hurricane Maria her crops were completely destroyed and starting over has been a slow and hard process. Through the Mercy Corps – Bacardi program, Donna is developing several innovative projects to help recover, including the use of her farm as an education center for community members with special needs.
Donna also offers tours to seniors for their enjoyment of the farm lifestyle and offers a variety of natural products for purchase. Additionally, she is in the process of opening a chocolate shop on the farm where people will be able to taste different kinds of chocolate products, as well as enjoy fresh, homemade breakfasts. "The chocolate is a project that we are adding to our farm to help make it completely sustainable, especially economically [following Hurricane Maria]," Donna said. "With help from Mercy Corps and the development of our social networks, we hope to be able to continue our farm's recovery and stay on track."
To date, Donna has participated in several of Mercy Corps' training and workshops as well as an advanced social media course to learn how to market her farm and all of her initiatives. She also received a business grant that enabled her to purchase an industrial grinder in March. It will increase the efficiency and production of her packaged products, supporting the expansion and sustainability of her livelihood. 
Natural Area Rehabilitation Highlight:
 

Rompeolas Pier & Tamarindo Bay, Culebra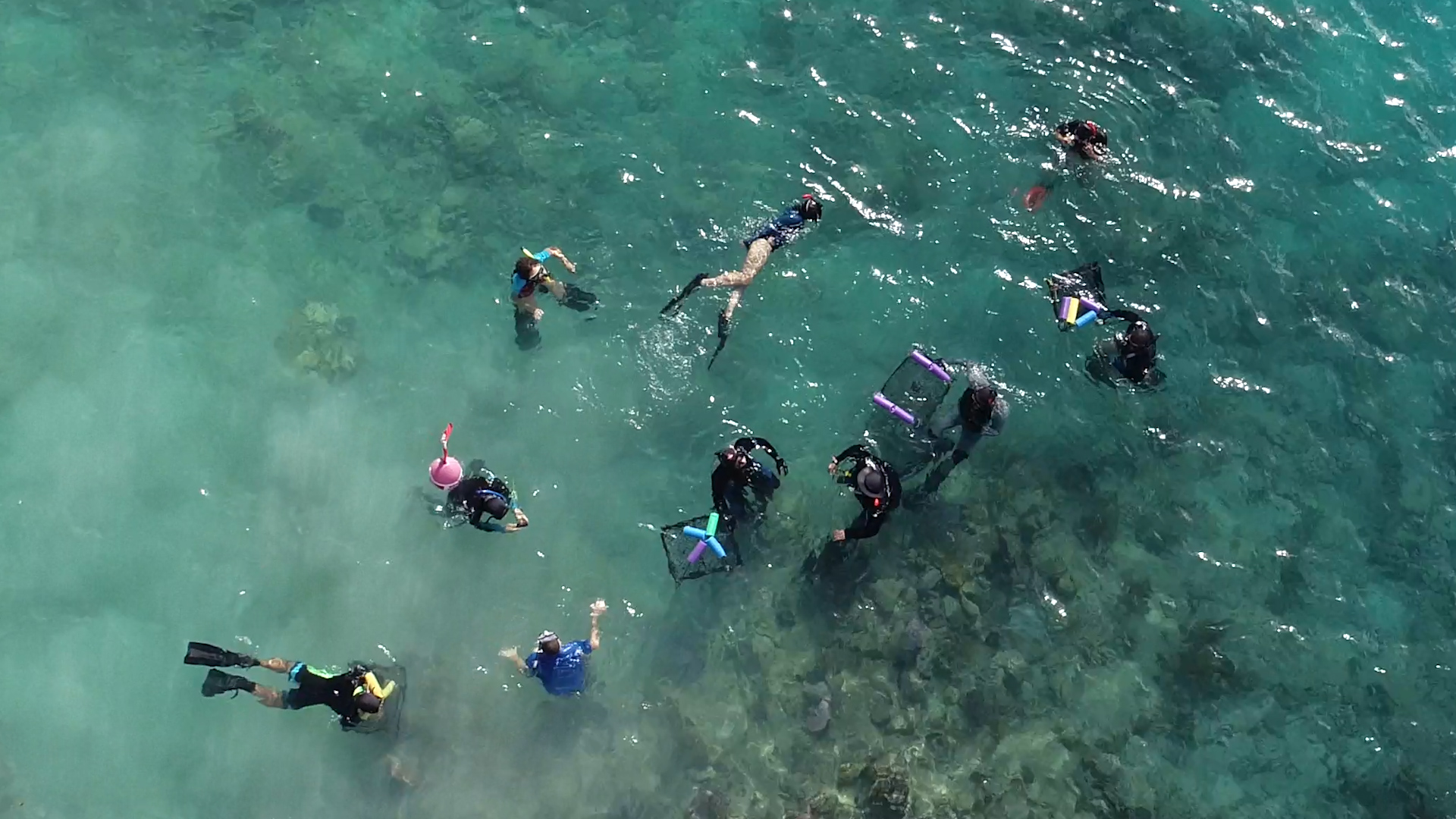 Multiple species of sea turtles are known to nest in the area surrounding Rompeolas Pier—enticing snorkelers and scuba divers alike—and they have been threatened by excessive debris and discarded fishing equipment. On October 13th, Mercy Corps organized the cleanup of Rompeolas Pier on the small island of Vieques, in collaboration with Vieques Conservation and Historical Trust, U.S. Fish and Wildlife Service, and two local dive shops (Black Beard Sports and Isla Nena Scuba). More than twenty volunteers participated in the cleanup and collected approximately 345 pounds of trash, helping the turtles and ecosystem recover. 
Puerto Rico benefits from more than $1 billion in tourist spending each year directly related to coral reefs. In Tamarindo Bay, Culebra, the coral reef suffered significant damage after Hurricane María. On December 1st, Mercy Corps partnered with Sociedad Ambiente Marino to support a clean-up event that drew thirty-three volunteers who covered 1.3 miles of coast. Coral fragments were collected, stabilized, and successfully replanted throughout the reef. Mercy Corps anticipates its investments in this area—made possible by Bacardi—will not only contribute to environmental recovery, but also to the revitalization of local economies via small- and medium-businesses in the area. 
Looking Ahead
The work doesn't stop here. We are excited to continue our efforts to support business recovery and resilience in Puerto Rico, while also expanding our efforts into the US Virgin Islands and Sint Maarten, with the launch of an Innovation Challenge for small businesses, including mentoring and financial rewards for small businesses.
Learn more at https://www.mercycorps.org/bacardi