Safety
At Bacardi, safety is more than a priority. It is a value embedded in our culture. We want to ensure that every day, every Primo returns home safely and without an injury. We believe production should never come before safety, and at our manufacturing sites and offices around the world, the safety of our Primos always comes first. This safety culture is embedded into our Bacardi cultural pillars of Fearless, Founders, and Family.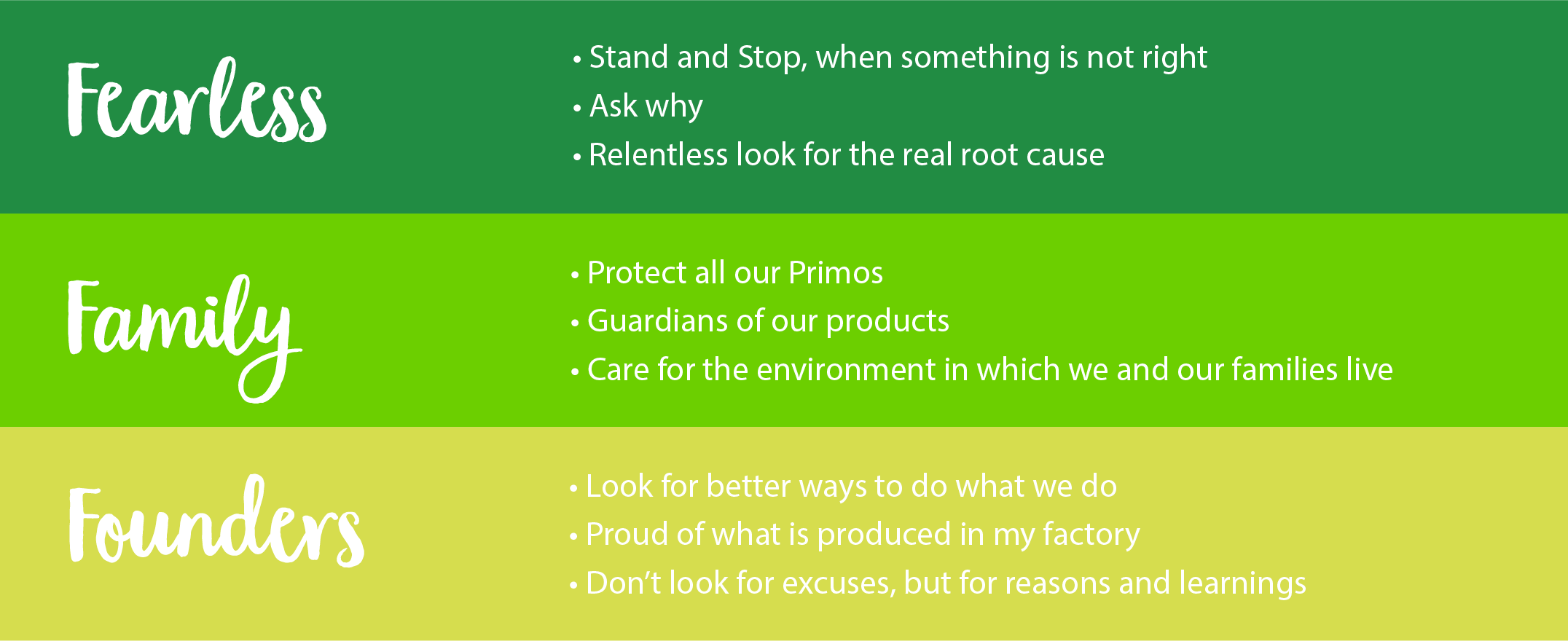 Furthering our safety culture and strengthening our performance is an ongoing journey, and we continue to bolster it with foundational elements and breakthrough programs. Bacardi built an in-house, robust safety program called, "Safety First," a five-year program to raise our safety culture, designed with four levels: Foundation (Bacardi mandatory minimum standards), Bronze (safety practices right above mandatory), Silver (advanced safety practices), and Gold ('best practice' safety practices according to top external benchmarks ). The program has already allowed us to reduce our average Lost Time Accident Rate (LTA). In FY19 we achieved a rate of 1.2, a reduction of 37% vs FY18, back on track with our global glidepath. Each year we work towards our global goal of less than 1 Lost Time Accident (LTA) per 1,000,000 worked hours (by 2023).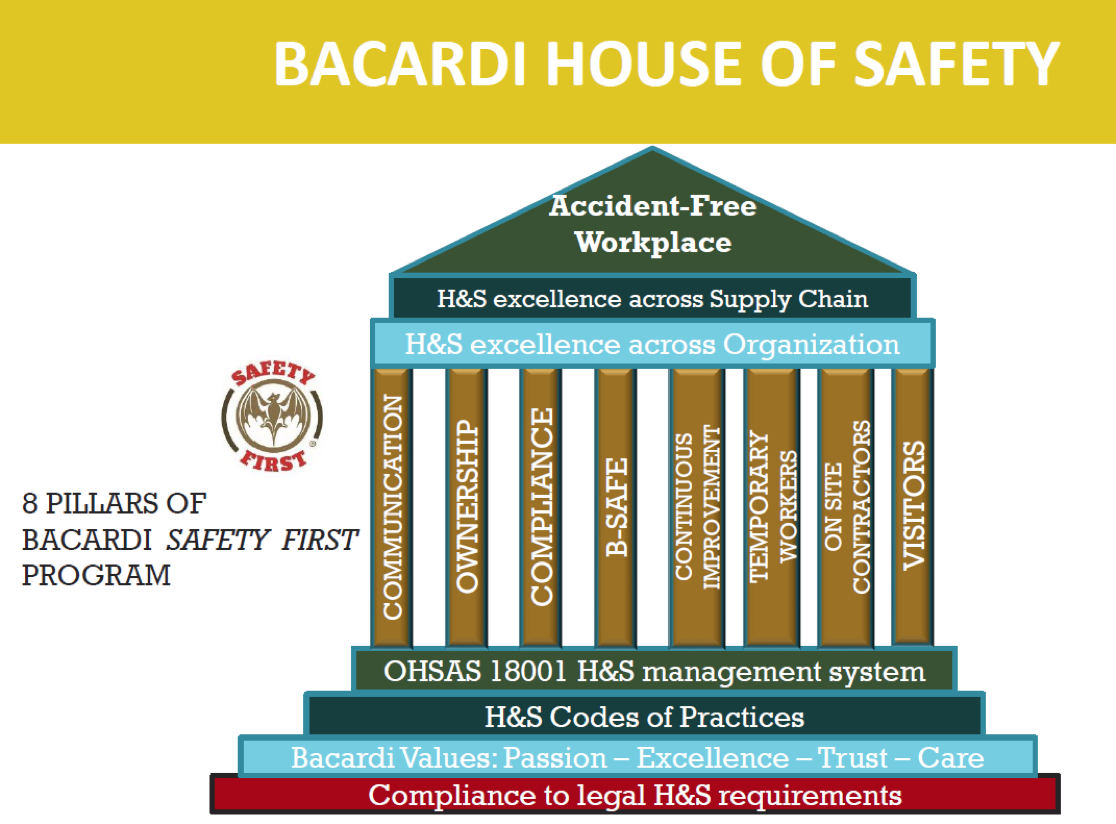 In FY19, we also launched  an extensive safety leadership training program at the local level that will be fully completed in FY20. We are investing in people as the solution, developing their capability to anticipate and adapt to risks and make things go right. In FY19, we held 13 Safety Days at manufacturing sites around the world, with more than 1,500 Primos engaged in learning and sharing best practices in our safety culture. One way Primos engage is through our B-Safe Observations. B-Safe Observations are behavioral based safety observations and feedback, based on best practice Behavioral Based Safety programs, to positively reinforce safe behaviors at work. 100% of our Primos in manufacturing sites were trained in FY18 to conduct B-Safe Observations. After training, all Primos at our manufacturing sites can conduct B-safe Observations, and in FY19 our observation rate improved by 32%. We delivered our best performance in terms of Recordable Incidents frequency rate in our manufacturing sites in FY19. Out of 23 manufacturing sites operating at end of FY19, 11 were accident-free for more than one year.
In FY20 we will keep pushing these efforts forward and will support our most recently acquired sites in their safety culture journey and in particular PATRÓN facilities in Mexico.

FY19 Safety Targets
FY19 Safety Progress

Improve overall B-Safe Observations rate by 10% vs FY18. Our FY19 target of 10% increase is more focused on consolidating the practices and delivering good quality B-Safe Observations.

B-Safe Observations rate was improved by 32% in FY19 vs FY18. This rate corresponds to the completion of an average of 6 B-Safe Observations per primo during in all our manufacturing sites. 

Overall Lost Time Accident (LTA) rate of less than 1 per million of worked hours by 2022 (FY23).

Overall LTA rate is 1.2 per million of worked hours, improved by 37% vs FY18.

At our manufacturing sites, we improved by 32% vs FY18 with an LTA rate of 2.6.

We launched a safety Leadership training program and rolled-out our 10 Life-Saving rules to reach our overall safety goal of having less than 1 LTA per million of worked hours by FY23.

Safety First program – achieving first step to Gold standards by FY19 in all plants

Gold level year one was achieved in all active Bacardi plants, excluding the most recently acquired sites.