Safety

We have a responsibility to keep our people safe at work and our vision is an accident-free Bacardi. In FY17 we held 20 Safety Days at manufacturing sites around the world. In addition, our Safety Teams produced multiple resources to keep safety top of mind for all employees.
As part of a global benchmarking group (ORC HSE), representing multiple industries, we share best practices a few times a year to ensure our standards and programs will have the most impact.
Our goal every year is to put "safety first" to achieve an accident-free environment. In FY17 we had a total of 18 accident-free sites out of 31 measured (please note this total number includes the 29 manufacturing sites, as well as our Distribution Center in Jacksonville and our recently opened distillery in Louisville).
FY17 is the second-best year in our Company LTA (Lost Time Accident) rate both in our manufacturing sites and globally in our offices. We improved by 18.5% our overall performance versus FY16.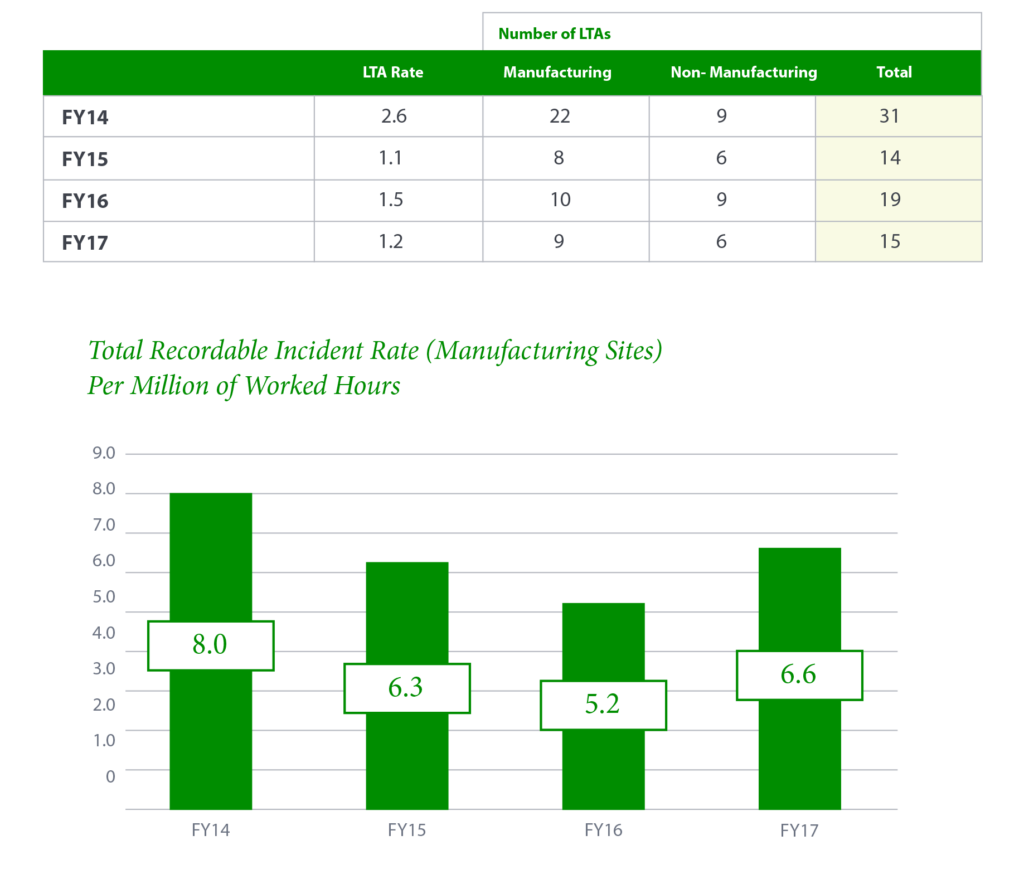 In FY14 Bacardi introduced consolidated reporting of Total Recordable Incidents across all manufacturing sites. Total Recordable Incidents gives a broader picture of safety performance and is aligned with our vision of building an accident-free workplace. This additional indicator includes Lost Time Accident as well as any restricted work case and medical treatment case. This key performance indicator decreased by 35% for three years in a row between April 2013 and March 2016 ending at an annual average of 5.2 Total Recordable Incidents per million of worked hours. In FY17, there has been a slight increase, however, the rate is still 18% lower than when first introduced.
| Safety Targets for FY17 | Safety Progress in FY17 |
| --- | --- |
| Improve overall B-Safe Observations* rate by 10% vs FY16. | Overall B-Safe Observations rate increased by 64% vs FY16. We overdelivered this leading KPI through the completion of +5,000 B-Safe Observations. |
| Overall LTA rate of less than 1 per million of worked hours by 2022. | Overall company LTA rate in FY17 was 1.2 per million of worked hours. This is our second-best year performance. |
| Safety First program** – work towards achieving Silver priority standards in all plants as a step towards achieving all Silver standards by FY18 | Silver priority standards were achieved in all plants and plans defined to reach Silver level in full by FY18. We are on track with our company Safety First program implementation. |
Safety Targets for FY18
Improve overall B-Safe Observations* rate by 30% vs FY17. While we started to report this rate globally in FY16, we believe our FY17 target was most likely set too low with activities expanding. Our FY18 target is reasonably ambitious as B-Safe Observations reinforce safe behaviors and correct unsafe behaviors through feedback. This is one of the key elements of our safety culture and is contributing to the improvement of our safety performance. This target will be supported by the training of 100% of our employees in all our manufacturing sites in conducting B-Safe Observations.
Overall LTA rate of less than 1 per million of worked hours by 2022
Safety First program** – achieving all Silver standards by FY18 in all plants
* B-Safe Observations are behavioral based safety observations and feedback, based on best practice Behavioral Based Study programs, to positively reinforce safe behaviors at work, started at Bacardi in 2009. All employees at our manufacturing sites can conduct B-safe Observations as long as they receive the proper training.
**Safety First is our home built program to raise our safety culture, designed with four levels: Foundation, Bronze, Silver and Gold. Silver level corresponds to advanced practices that are rolled-out globally.