ABOUT BACARDI LIMITED
About Bacardi Limited
Family-owned Bacardi Limited is the largest privately held spirits company in the world. We produce and market a variety of internationally recognized premium spirits and wines.
Our Brands / Our Operations / Our Corporate Structure
Our Brand Portfolio
includes more than 200 brands and labels, with a focus on six core global brands that are supported by a strong portfolio of other brands. Our global brands are: BACARDÍ rum, BOMBAY SAPPHIRE gin, DEWAR'S Blended Scotch whisky, ERISTOFF vodka, GREY GOOSE vodka and MARTINI vermouth and Italian sparkling wines.
Our operations

Headquarters
Bacardi Limited is headquartered in Bermuda and incorporated under Bermudian law. Our products are sold in more than 160 markets worldwide by Bacardi companies and third-party distributors.

Production
We currently operate 29 production facilities including bottling, distilling and manufacturing facilities located strategically in 16 countries, including the United States, Scotland, Italy, France, Spain, Germany and Mexico. See map below for more information.

Distribution
We also operate a global distribution network for our brands and selected third-party agency brands. Our customers are independent distributors, wholesalers and retail outlets worldwide, including major grocers, convenience stores, hotels, restaurants and duty-free shops and stores. Consumers therefore have access to our brands from a variety of distribution channels.
Our Countries of Production Sites
Click on the bottles to find out more.

Headquarters

Production

Distribution
Our corporate structure
Regions
The corporate structure of Bacardi includes five geographical regions – North America, Europe, Middle East and Africa, Latin America & the Caribbean and Asia Pacific – and the global functions that support the Company.
The operating structure comprises a number of holding companies, trading subsidiaries and operating units, the ultimate owner of which is Bacardi Limited. In total, Bacardi has over 100 companies and sales offices that are wholly owned.
Global functions
Our global functions are Global Operations, Finance, Marketing and Sales, and these are supported by General Management functions, including IT, Legal and External Affairs, Communications, Procurement, Business Development and Human Resources. Each region consists of a small regional management hub and local markets where Bacardi has its distribution companies or sales offices.
Our corporate structure*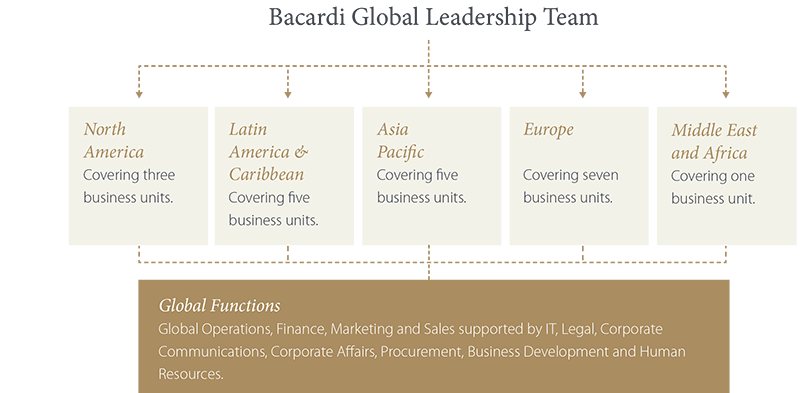 * This report reflects our corporate structure during the reporting period of April 1, 2013 to March 31, 2014.
Distribution operations
Operating arrangements differ from market to market, but include wholly owned, joint venture or third-party distribution.
In smaller markets, area managers work with nominated distributors and wholesalers in order to meet local demands for our brands.
In many markets, formal agency arrangements exist with other brand owners to handle their distribution.
A separate business unit distributes our brands through the Global Travel Retail network, i.e., airports, cruise ships and diplomatic channels.
Governance
This organizational structure is overseen by the Bacardi Board of Directors, which has three principal committees covering Audit, Compensation and Nominations (including oversight of the Company's corporate governance). Further details are given in our GRI content index.